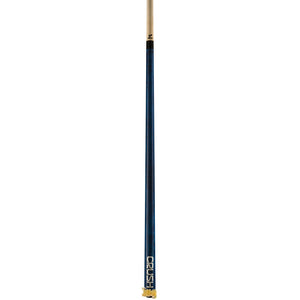 Viking Crush Blue Wrapless Break Pool Cue Stick
$29700

$297.00
Orders $49+ Ship Free! No tax in most states.
---
---
Looking for a cue that will help you CRUSH your break? Look no further than the Viking Crush Wrapless Blue Break Pool Cue Stick. Made with hard rock Michigan maple and a phenolic tip, this cue is designed for power and precision. The V CRUSH shaft ensures consistent performance, while the ultra-violet urethane finish protects the cue from wear and tear. With its quick release joint, this cue is easy to assemble and disassemble, making it perfect for on-the-go players.
Specifications:
Tip: 13mm Viking Phenolic
Ferrule: Reactive Black Phenolic Ferrule
Shaft:V CRUSH Hard Rock Maple
Taper: Conical "CRUSH" Taper No Wrap.
Finish: Ultra-violet Urethane 3 coat finish Forearm: Aged Hard Rock Michigan Maple
Joint: High Impact Modified Acrylic, flat faced with a brass insert
Pin: Viking 5/16 x 18 quick release, stainless steel
Bumper: Threaded rubber
Butt Plate: High Impact Modified Acrylic
---
We Also Recommend