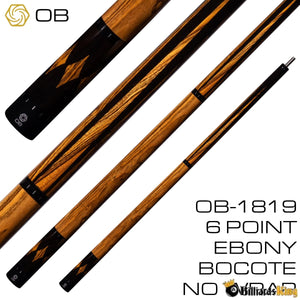 OB Cues OB-1819 Pool Cue Stick (Butt Only)
$57945

$579.45
Orders $49+ Ship Free! No tax in most states.
---
---
Introducing the OB-1819 pool cue stick. This cue features an Ebony Forearm with 6 Bocote Points, a Bocote Handle, and Ebony Sleeve with 6 Scalloped Bocote Diamonds. Our unique Centralized Balance System (CBS) allows for our cues to be weighted in a way that creates an evenly balanced cue with feedback that is both crisp and lively. You'll love the custom feel of this production cue!
Note: Weight selection only valid when purchased with a shaft. This OB Cue utilizes a modified 3/8x10 joint pin. If you purchase the butt only, it will be shipped with a 1 ounce weight bolt installed.
---
We Also Recommend