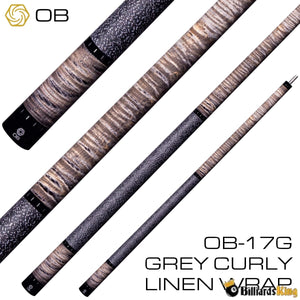 OB Cues OB-17G Pool Cue Stick (Butt Only)
$28510

$285.10
Orders $49+ Ship Free! No tax in most states.
---
---
Looking for a cue that feels amazing in your hand? Look no further than the OB-17G Pool Cue Stick! This cue features a Grey Stained Curly Maple Forearm, Irish Linen Wrap and a Grey Stained Curly Maple Sleeve. Our unique Centralized Balance System (CBS) ensures that the cue is weighted evenly and provides crisp, lively feedback. With its stylish design and superior construction, this cue is perfect for any pool player!
All OB Playing Cues (other than our Sneaky Pete's) are built using our exclusive Straight Line Core (SLC) technology. SLC is a solid core that is straighter, stronger, more stable and stiffer than the vast majority of cues made today. This simply means that your cue will be built straight, stay straight and hit great. This cue also has our unique Centralized Balance System (CBS). CBS allows for our cues to be weighted in way that creates an evenly balanced cue with feedback that is both crisp and lively. It really has to be felt to be appreciated because you end up with custom feel in a production cue.
Note: Weight selection only valid when purchased with a shaft. This OB Cue utilizes a modified 3/8x10 joint pin. If you purchase the butt only, it will be shipped with a 1 ounce weight bolt installed.
---
We Also Recommend