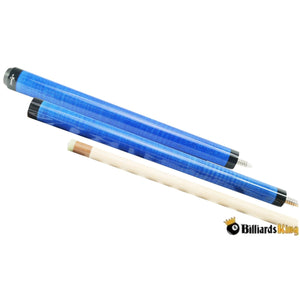 Meucci Royal Blue POGO Jump Pool Cue Stick
$27880

$278.80
Orders $49+ Ship Free! No tax in most states.
---
---
Looking for a cue stick that can help you take your game to the next level? Meucci has just what you need. The Royal Blue POGO Jump Cue Stick is perfect for anyone who wants to make their shots more powerful and accurate. Made with a hard rock maple shaft and a phenolic tip, this cue stick is designed to help you jump balls with ease.  So if you're looking for an edge on your opponents, pick up a Meucci Royal Blue POGO Jump Cue Stick today!
Specifications:
Tip: 13mm Phenolic Tip
Shaft: 29in hard rock maple shaft with a 13mm G10 tip
Double 3/8x10 Joint Pin
Bumper: Black rubber
Length: 54" Total, 41.5" with 1 butt
THIS JUMP CUE MAXIMIZES JUMP PERFORMANCE IN TWO WAYS. One: The shorter combination of the shaft and the first section of the butt is for jumping as close as one ball distance between the cue ball and the object ball to be jumped. Two: The second way is when using the total length of all sections, long jumps are easily performed while even drawing the cue ball after the jump is completed. Chris Lawson, who is in my opinion one of the premier jumpers in the business, says this is the best jump cue he's ever used.
---
We Also Recommend