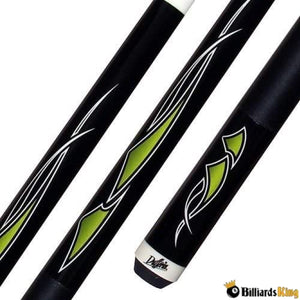 Dufferin D-421 Pool Cue Stick
$7969

$79.69
Orders $49+ Ship Free! No tax in most states.
---
---
Full length jet black with Olive green tribal designs on forearm ands butt sleeve.  Black linen wrap.
Legendary Quality Two-Piece Cues
All Dufferin one and two-piece cue shafts are made of pure white 100% select solid Rock Maple straight from the forests of Canada. Each cue blank is carefully dried and turned while straight up and down to ensure the absolute straightness of the final product – just one of the many manufacturing control processes that gives Dufferin its legendary reputation for quality. Dufferin cues feature fittings of dependable and resilient aluminum, linen, fiber and wood, which have been specially designed to maximize the cue's feel and responsiveness without affecting its balance.
Dufferin Two-Piece Billiard Cues Feature
A long-lasting, quality Elk Master tip by Tweeten or a premium Emerald (300 series) or a layered Everest tip (500 series) by Tiger Products
A full professional taper
Dufferin's exclusive high-gloss, ultra smooth and scrape-resistant "UV" finish

The Dufferin Guarantee

All Dufferin cues are made from carefully selected Canadian Hard Rock Maple. Because of our reputation for legendary quality, all Dufferin cues are backed by a one (1) year guarantee against manufacturers defects. The warranty period extends for one (1) year from the original date of purchase and is non-transferable. Claims made after one year or claims that are not accompanied by the original receipt are subject to manufacturer approval. This warranty excludes warpage and damage due to wear, by a third party, or resulting from abuse or mishandling. 

Cue Details 
Wood: Canadian Hard Rock Maple
Joint Collar: White Implex
Tip: Emerald by Tiger Products
Wrap: Pressed nylon
Weight: Standardized weighting system 18oz-21oz available
Butt Cap: White
Joint: 5/16x14
Tip: 13mm
---
We Also Recommend